from the right ; Otonashi Io , Tsumiki Miniwa , Haruno Hime ,Sakaki Inui , Katase Mayoi ,
Sakimori Saki , Saibara Kyouya , Miyama Kana
Acchi Kocchi ( Place to Place )
あっちこっち
school life , a story about a girl ; Tsumiki falls in love to Otonashi Io because of they're close friend .
she's a shy,childish & tsundere type . Her best friends are Mayoi-chan & Hime .
always teased by Mayoi because of her shyness & afraid to confess .
Tsumiki -
short-tempered person towards Mayoi, who often teases Tsumiki about her feelings for Io, resulting in heavy punishments such as throwing Mayoi against a wall.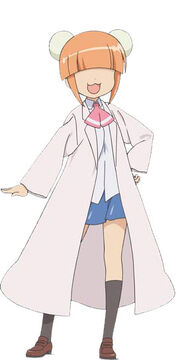 Mayoi
-
Tsumiki's best friend .

Loves to tease Tsumiki which often brought her severe repercussions from the latter.
Hime

-
Easily gets a nosebleed when she's flustered or riled up.
Io -
He is dense and stoic, yet kind at heart. He is oblivious to
Tsumiki
's crush on him, but she is the closest girl to him regardless
Inui -
Together with Mayoi, he makes up the prankster duo in the friendship circle
6.08.2013
Tuesday .